Tot Trays 9.26.11 - 9.30.11
For some reason, it was really hard for me to get pictures of the trays this week! Nevertheless, here are a few of the Tot Trays Eli will be working on. Not pictured are the Dd crafts and all the dinosaur craziness that has taken over the house (homemade fossils, anyone?)!
Dinosaur matching
Dinosaur lacing cards
Duck number matching
D dot-a-dot page from our Letter of the Week
curriculum
from Confessions of a Homeschooler
Play-doh mat also from
COAH
This worksheet came from
here
-hey have lots of printables. We're not totally in to the printables yet, but I'm sure they'll be useful soon.
I've seen this idea every where: styrofoam + golf tees + marbles. Great for fine motor skills!
Carry the dino egg on a spoon (one side of the room to the other)
Dinosaur footprint match-up!
Move the baby dinosaur eggs back to the nest
Number identificantion
This is my first link to: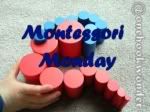 Head over to check out lots of Montessori inspired blog posts!